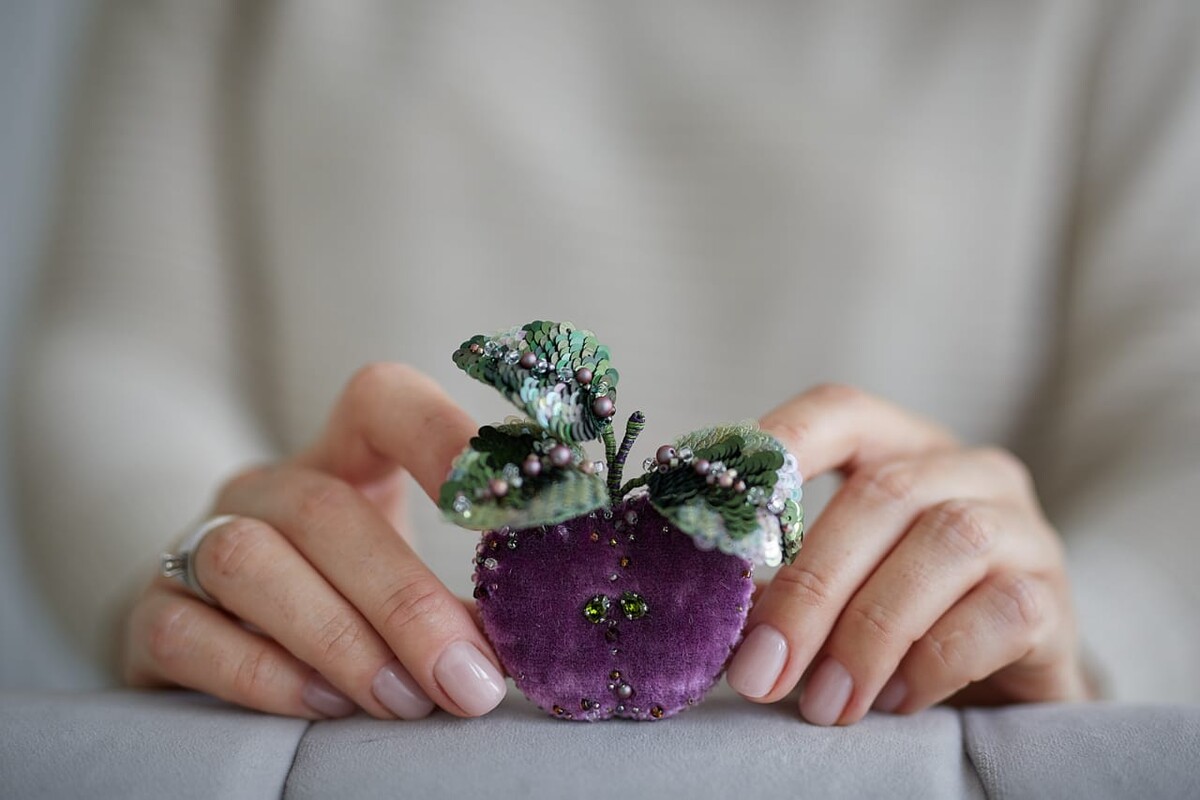 ARE YOU JUST GETTING FAMILIAR WITH THE WORLD OF EMBROIDERY?
OR ARE YOU ALREADY AN EXPERIENCED CRAFTSMAN?
HAVE YOU GOT A LUNEVILLE HOOK? OR DO YOU EMBROIDER WITH A NEEDLE? - THIS MASTER CLASS IS FOR YOU!
We are glad to welcome You to an exciting course on making a Velvet Apple.
I'm sure You're all talented and passionate about handcrafts. Therefore, I will be happy to fill Your creative piggy Bank with new knowledge!
Price 38 euros
Course Duration 90 days
What is this course about?
In the course we will produce an Apple-Brooch with voluminous leaves. The brooch is light, small in size (5x7 cm, including leaves).
The Course is adapted for embroidery with a Luneville hook or needle.
ATTENTION(!)
This course is NOT a training course on the basics of Luneville embroidery and assumes that you already have some basic skills. The explanations in the lessons assume that You already know the basics of working with this technique.

Those who are more familiar with needle-embroidery techniques will also be interested in applying their existing skills. The course includes short training videos of two techniques for sewing sequins with a needle.
How is it going to be held?
The master class is designed for INDEPENDENT completion.
In the lessons there is information on the selection of materials.
Access to the materials of the master class is 90 days from the date of purchase.
A certificate on successful completion of the Master class is also included in the course.
Certificate of completion of the master class
Analysis of the materials
The pattern
How to assemble a glass-bead mix
Working with wireframes
Working with sequins
Decorating and assembling the Apple.
Apple decoration
Assembling the accessory
Instructions for the care of the product
Embroidery with a Luneville hook OR needle
Working with sequins
Working with velvet
Creating volume
Making a glass-bead mix and its application
Design of the back side of the accessory
Assembling the Brooch
Also, at the end of the course, you will be provided with detailed instructions on how to care for the accessory.
The authors and leaders of the course
The founder of Inga Marita SCHOOL
The author of the program "More than embroidery"
The leading teacher
Inga Marita SCHOOL

inga.marita.school@gmail.com

+7(926)728-63-10